Fire and water, earth and sky, cheese and charcuterie – in life, it's all about preserving the balance. One simply cannot do without the other, and together is when we are able to savour the best experiences of life. And one of these finer experiences comes in the form of a new series at Ginett Singapore – Uncorked: A Food & Wine Pairing Series in Singapore.
To be held on the last Tuesday of every month, guests are invited to explore a curation of French wines led by F&B Operations Manager Alla Boldyreva, along with a special food pairing menu created by the Chef at Ginett.
This food and wine pairing menu will be switched on a monthly basis, showcasing different dishes and French wines by the region so there is always something to look forward to when you are after a food and wine pairing in Singapore.
" At Ginett, it has always been our aim to be an in-vogue escape that offers something for everyone. Be it a quick, affordable and easy set lunch fix or a hearty charcoal selection for dinner.
We are very excited to launch Uncorked: A Food & Wine Pairing in Singapore monthly series to show the versatility of our team as well as to provide our guests, regular and new alike, with an out-of-the-norm experience at Ginett."
F&B Operations Manager Alla Boldyreva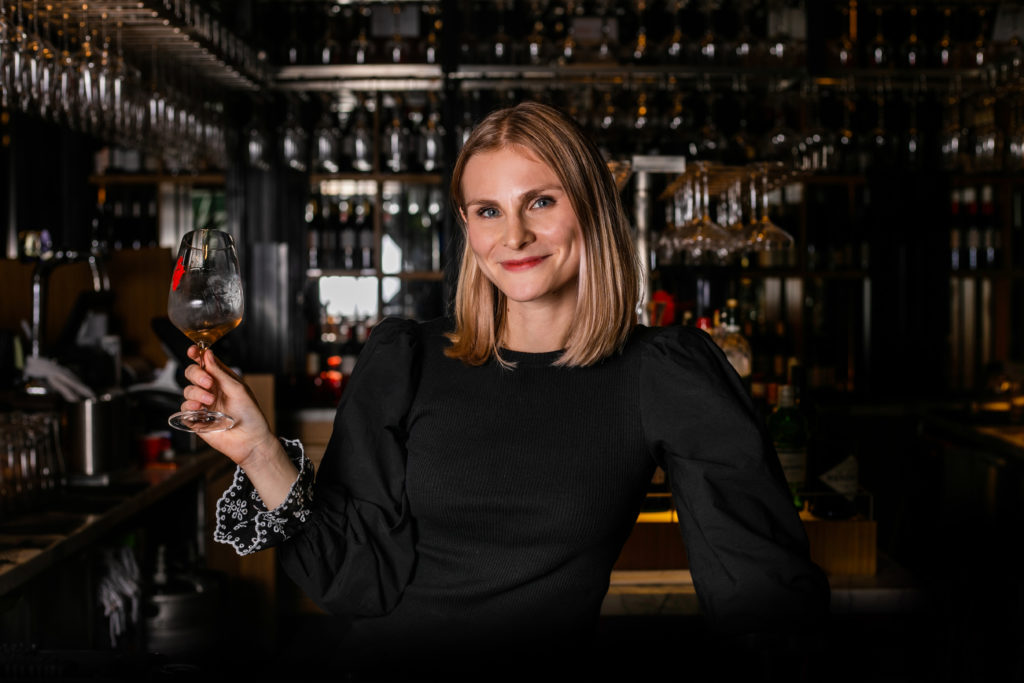 Charming, inclusive, and inherently curious, Alla Boldyreva has dedicated her life to the hospitality industry since the spirited age of 21. She has spent years fuelling her passion and developing her skills, eventually receiving the Wine & Spirit Education Trust (WSET) Certification in 2018.
Unmatched in her appreciation for French cuisine and wines, with her penchant to roam the service floor to extend her help and influence –  there's no better F&B enthusiast to lead Ginett's Uncorked: Food & Wine Pairing Series in the wine tasting masterclass throughout dinner.
" We realised that there's a growing interest and appreciation amongst our guests and public alike on wines.
As such, we decided to turn this into an opportunity to curate a food and wine pairing series where attendees can learn about how to taste wines, the different types of wines and the ideal wine pairing. At the same time, giving them a chance to indulge in a delicious 5-course pairing dinner specially prepared by Chef."
In the third edition of this series on 28 March 2023, indulge in Margaux wines!
Together with a menu that crescendos from lighthearted and fresh, to intense and hearty – it's a true foodie experience you won't want to miss. At $150++ per pax, look forward to:
Pumpkin Soup, White Asparagus, Chestnuts and Pata Negra Shavings




Paired with

Château d'Arsac, Margaux, Cru Bourgeois, 2018
Pan-seared Foie Gras,

Arugula

, Parmesan Crumble with Blackberry Gastrique Sauce
Paired with Baron de Brane, Margaux, 2012

Matcha Green Tea Risotto, Steamed Lobster with Butter and Green Pea Foam




Paired with

Château Cantenac Brown, Margaux, 2014

I

berico Cheek Stew, Roots and Black Truffle


Paired with Château Boyd-Cantenac, Margaux, Grand Cru Classé 1855, 2014
Fromage Blanc-manger with Raspberry Compote and Sweet Mint Pesto
Paired with Champagne Jean Milan, Rosé, N/V
The next edition of Uncorked: Food & Wine Pairing Series is available at Ginett on 28 March at 7.00pm for just $150++ per person. For reservations, head on to: bit.ly/bookGinettnow and use the promo code <UNCORKED> or email [email protected]