Whether you want to start your evening on Scarlett's rooftop terrace or in the main dining area, explore Scarlett Bangkok's small plates menu, a twist on a tapas menu. It's the perfect way to start your meal, paired with a rooftop sunset overlooking Bangkok's skyline.
Small Plates at Scarlett Bangkok
Explore Scarlett's menu of small plates, which includes highlights such as:
Scarlett's Deviled Eggs
This classic dish might sound simple, but that's far from it. Served cold, the hard-boiled eggs are cut in half, and the yolk removed. The egg yolk is mixed with various ingredients including mayonnaise, garlic and mustard. It is topped with smoked salmon to make this a delectable dish to enjoy.
Slow-Cooked Tuna
Tuna is slow-cooked for a minimum of 6 hours to create a delicate flavour and texture, and it comes with a house-made teriyaki sauce.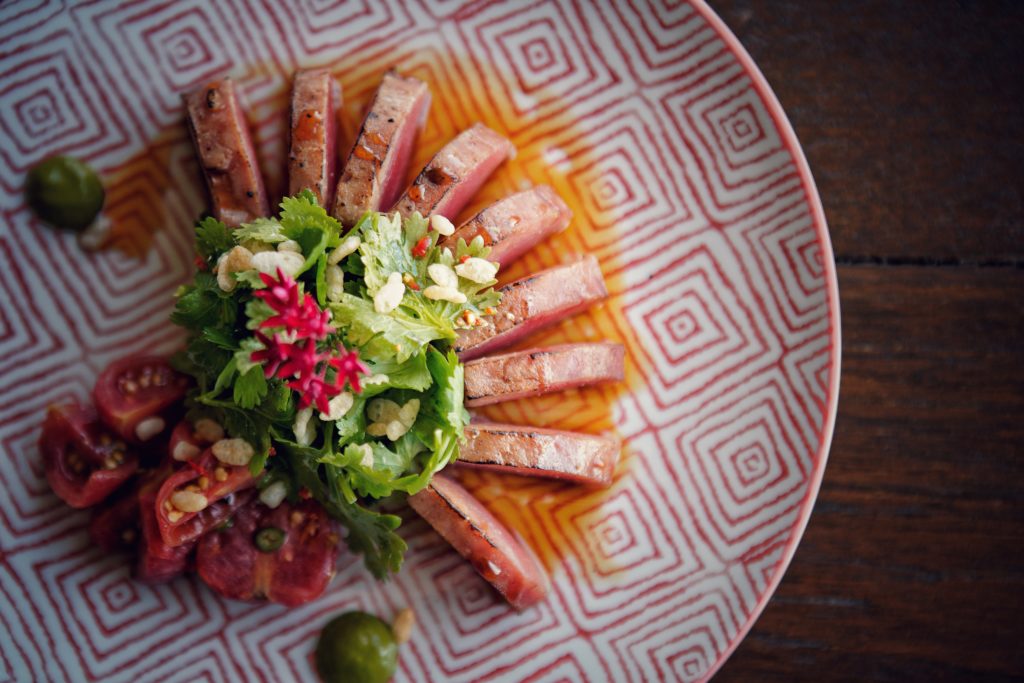 Tomato Confit & Stracciatella Cheese
Who doesn't enjoy the creaminess of Stracciatella cheese? This refreshing dish takes a variety of confit tomato and tops it with oh-so-creamy stracciatella. And for the final touch, a salmon rose decorates this dish.
Crispy Prawn
White shrimps are lightly battered with chili and garlic, and served with a chili mayonnaise.
Tasmanian Salmon Ceviche
Tasmanian salmon is marinated in a combination of garlic, pickles, lemon juice and Scarlett's secret 'green sauce.' It comes served with crispy rice, for a refreshing way to start any meal.
📌 Scarlett Wine Bar & Restaurant
Level 37, Pullman Bangkok Hotel G, Silom Road, Bangkok
For more information & bookings
🖥 Chope Reservation
📞 +66 968607990
📱 LINE (@scarlettbkk)
🖥 scarlettbkk@randblab.com
Follow us on Facebook | Instagram